Finances. If you have to deal with them at all, and let's face it — most of us do, then you need the best financial calculator on your desk.
One of the hardest words to avoid, financial decisions are often tough. Whether they're thought-out or not, making monetary choices are crucial to the world you live in.
Sometimes, though, it can be difficult to figure out specific numbers before making a key decision, such as buying a house. You could use free, online options to your advantage. However, even though those are convenient, they don't hold all the answers and don't factor in as much information.
That's where a financial calculator comes in.
The best financial calculator will allow you the freedom to explore your options in within the financial landscape and can be a valuable tool for anyone. Most of these devices can perform over 100 finance-specific functions, giving you versatility.
Whether it's calculating the interest or percentages of your banking accounts, or double checking any company you plan to take your business to, a financial calculator can come in handy.
Describing the Best Financial Calculator Out There
There are plenty of times where you'll want a financial calculator. Ideally, the device will help you discover what your payments might be for a specific type of topic, such as mortgage loans or when buying a car. You're able to use financial formulas to determine the exact values of a financial decision, and that power is often priceless.
Of course, when doing this you'll want the best financial calculator you can. Why settle for less, and potentially lose out on savings and accuracy in doing so?
This might put the thought into your head that these types of calculators are expensive. While they aren't your basic problem-solving device, they're not as expensive as high-end graphing calculators.
This small investment can pay for itself in no time, giving you the freedom to discover where your money can take you. Using a powerful device to take the guesswork out of any money equation can be a big tool for you to use, so understanding your options regarding the best financial calculator is a crucial first step.
RELATED READS: Dividend Champions List: What You Need to Know
Our Top Picks for Financial Calculators
While there is one top option, all the calculators listed below will up your financial game, without breaking the bank initially. Let's see what these can do.
5. Casio FC-200V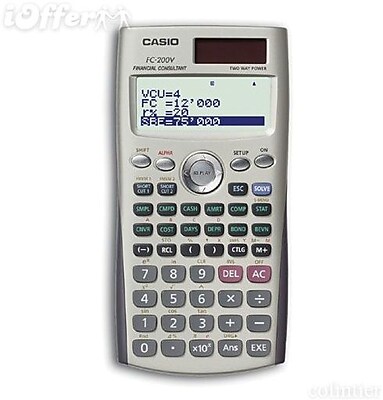 Casio FC-200V Financial Calculator
Starting off our list is the Casio FC-200V. This is great value as even scientific calculators can be this inexpensive. Thus, it's easy to see why something like this can be beneficial.
To start out, the calculator is backed by a dot matrix display and is powered by the sun. It has a bigger four-line display–your basic calculator has only one or two-line capabilities–giving you access to more data at a time. The screen also presents 12 digits, providing most of the necessary numbers from calculations.
Some of the functions you'll find on the FC-200V are depreciation, simple and compound interest, cash flow, and statistics. There are eight more standard functions, giving you a decent selection of uses. It's not all-encompassing, but the calculator also isn't trying to be.
To make things easier to find, all the programs installed on the device are seen by their respective buttons. This allows you to find, and remember, where the function is that you're looking for at any point during use.
Speaking of the functions, this is really the only area that the Casio lacks. Again, it's not trying to be a powerhouse, mini-computer-in-your-pocket, but you might find that the included programs aren't deep enough for your needs. It's a simpler device meant for simpler calculations, so knowing that going in will damper any unrealistic expectations.
That all said, most of the daily tasks, or specific times in your life, are covered within the Casio's range of operations. As such, you'll find the answers to most questions. All of this allows the FC-200V to be included among the best financial calculators around.
4. HP 10BII+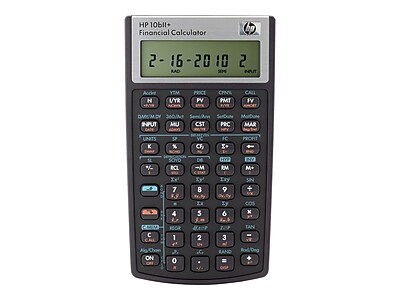 HP 10bII+ NW239AA 12 Digit Financial Calculator
If you'd like your financial calculator to be a little more versatile, check out the HP 10BII+. This device can be ideal for accounting, business, and finance alike, but also doubles as a solid calculator for math or science as well.
While this financial calculator won't win any design awards, the layout is simple. One of the things you'll notice right away is that there are standard functions along the top buttons for easy access, with the numbers on the bottom. This might confuse some, as both the number and other buttons feature the same color palette, which is something to consider.
The display itself is a standard, 10-digit, one-line screen. While this isn't industry leading by any means, the LCD technology allows for good viewing angles, battery life, and varying contrast. 10-digits can be a drag for some, but it's the standard and harder to find devices that employ more numbers on the screen.
One of the best uses for a calculator is on certain tests, and like a few others on our list, the HP 10BII+ is accepted for use on the CFP, IREM, AFP, and CCIM Institute.
Thus, if you think you might need to take one of those exams soon, the HP can have your back. If a calculator is can be used on a test, it means the device has enough programs or features to encompass the full range of that test. Put in better terms, the calculator has all the necessary functions for that job.
As mentioned before, there is some power underneath the hood. The HP 10BII+ can double as a math-based machine and allows for that data to be input at 45 different points, giving you ample room to work within mathematical functions.
All in all, this HP calculator will get the job done. It has 100 built-in functions, comes with a low price tag, and can double as a student's math device. The 10BII+ belongs to the best financial calculators.
3. Texas Instruments BA-II Plus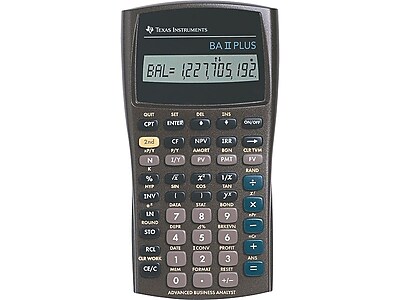 Texas Instruments BA II PLUS 10 Digit Financial Calculator
While our number one pick may be the advanced version of this TI calculator, the Texas Instruments BA-II Plus is a great option when needing a financial calculator for business or home use.
If you need to calculate your standard cash flow, TVM, or IRR values, among others, the BA-II Plus has you covered. The overall design and implementation of the functions are easy to understand, with all of them being right to the buttons themselves.
The device as all the right functions suitable for accounting, finance, real estate, or economics. It also can double as a science and mathematical machine, which is always a nice touch.
The display included is your typical 10-number, one-line screen. The numbers are big and bold, so you won't have a hard time viewing your data.
Concerning standardized tests, the BA-II Plus can accompany you for the Chartered Financial Analyst, FRM, and Certified Management Accountants exams. These are some of the higher-profile tests in the financial field, so having a trusted device to bring into the room can always help with morale.
Even though this calculator doesn't go as deep into functions as others might on the list, it still is among the best financial calculators you'll find. It's hard to find a company as trusted as Texas Instruments, so take advantage of their solid calculator offerings.
2. HP 12c Programmable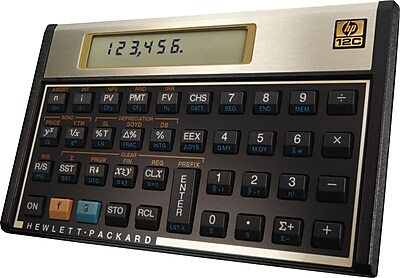 HP 12C 10 Digit Financial Calculator,Size: large
Looking for something a little more diverse than previous entries? Enter the HP 12c Programmable Financial Calculator. With one of the biggest selections of business and financial functions around, this is one of the best financial calculators you'll find.
If you think the normal, 25 or so functions that most calculators come programmed with is too low, the HP 12c has you covered. With over 120 built-in business and financial functions at your fingertips, it will be hard to find something that's not covered. TVM, bonds, cash flow, interest, all of this is covered.
Some of the main ones are even provided right on the buttons, and as mentioned in this financial calculator's name, are programmable to suit your uses.
All of this is provided within the calculator's package, plus it's approved on standardized tests and qualification exams. If you're thinking about pursuing a career as a financier or realtor, you'll be fine to use this on any of the tests you need to take. This gives you more versatility, allowing for the money spent on the device to go farther.
Everything sounds good so far, but the one downside to this calculator is the screen. Featuring an LCD design, which is good for contrast, the display only provides enough room for 10-digits on one-line. Most other calculators in this range can show you two-lines of data, along with 12 numbers on two-lines of an area.
The HP 12c runs on a battery, with no solar power for backup. This is not a deal breaker by any means, just something to note.
Overall, the HP 12c is one of the best financial calculators you'll find.
The screen is the only drawback, but once you're past that it should be a good calculator for years to come.
1. Texas Instruments BA-II Plus Professional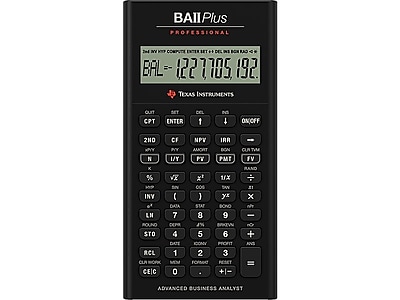 Texas Instruments Professional BA II PRO 10 Digit Financial Calculator,Size: large
Coming into the list as our pick for the best financial calculator you'll find, the Texas Instruments BA-II Plus Professional calculator has everything you'd want in an appealing package. From the get-go you know the device means business and can be used in a variety of applications, making it a top option.
This TI should be used within the finance, accounting, economics, and investment fields, with the ability to dabble in the statistics field too. Having the power to do both financial and math-based industries make it easy to choose as a go-to calculator.
Concerning the display, this TI features the normal 10-digit, one-line screen. While that's not going to blow anyone away, it's an LCD display, giving you nice viewing angles and a clear picture. The display is bigger than other ones, which does make it easier to see your calculations.
There are plenty of built-in functions found on the buttons themselves and through secondary functions. From cash flow, modified duration, and depreciation schedules, to bond price maturity, you'll find a very good list of programs to use.
The BA-II Plus Professional is also approved for use on the Chartered Financial Analyst and GARP Financial Risk Manager exams. Both are aimed at some financial operations, which is what the calculator does in the first place. Having the ability to use a device you're comfortable is always a big boost to tough tests.
Having the Best Financial Calculator Can Help
It goes without saying, but when your daily job or current schooling situation requires number crunching, having a reliable, easy-to-use device to power you through is crucial. This is especially the case with calculators, as there are numerous companies all trying to win you over.
When choosing the right financial calculator for you or your employees, it should always come back to your needs. Lower-priced devices will fit the most basic functions, while the premium offerings from manufacturers are aimed at a broader spectrum of use.
The best part about almost all financial calculators, though, is that they're often approved for use on exams or tests that require a calculator. This little feature can help eliminate anxiety that may come with testing.
Overall, there is a financial calculator on this list for every type of person. Whether you simply want to calculate some monetary facts at home, or it's your job, having the best financial calculator can make it easier.
At the very least, who wouldn't want to run the numbers on TVM data for fun?