When some people hear about passive income, they believe it's too good to be true. But here's the deal: It is possible to earn money while you sleep, go on vacation, or live your day-to-day life. But to succeed at this, you need to know how to make passive income in 2021.
Here are some of our favorite passive income ideas.
Recommended Read: The 10 Best Investment Books to Help You Buy Low and Sell High
But First, What Is Passive Income?
There are a lot of misconceptions when it comes to passive income. Some people think it is some sort of magical system that deposits income into their bank account every month without them having to lift a finger. That's just not true.
If you want to earn passive income in 2021, you will have to invest a little money or work upfront. But after the initial investment, you will watch your upfront work turn into passive income month after month. Just imagine, with a little work in the beginning, you could earn passive income in 2021 and beyond and have the lifestyle you've been dreaming about!
Here are 10 ideas to get you started on your passive income in 2021 journey.
Passive Income in 2021: Our Favorite Ideas
Isn't it exciting to know that you can earn passive income in 2021? The most difficult part will be selecting the right passive income idea for you. Here are some to get you started.
1. Park it and forget it
One of the least labor-intensive passive income ideas is renting out space for others to park in. Especially if you live in a big city or other areas where parking is limited, you can advertise your driveway, empty lot, or even the space in front of your house, and others will pay you to park their car in it.
Websites like JustPark and SpotHero are set up to allow you to advertise your parking space. When someone looks for a parking space, they visit the site to find their ideal parking space. You could end up renting your space for a weekend or sign a long-term contract.
And the only work required on your part is to create the listing!
2. They're everywhere
When is the last time you used a vending machine? You may have bought a soft drink, an afternoon snack, or a gumball for your kid. Vending machines are everywhere for a reason: People use them.
When you first enter the vending machine business, it requires work. First, you will have to purchase a vending machine and then buy and load the product inside of it. Next, you will have to persuade a business owner to allow you to place the machine on their premises. Many times, they will agree if you offer them a portion of the sales.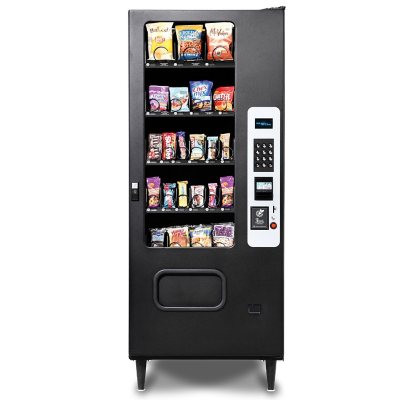 Selectivend SV3000 Vending Machine
But after that, the income you earn is passive except restocking the machine whenever it becomes empty. The vending machine business is a great way to earn passive income in 2021 and for years after that. With a little money and effort on your part, you could soon have vending machines across your city and earn enough passive income to quit your day job!
3. Teach what you know
Today, people like to learn new things by taking online courses from experts. In fact, some people earn thousands of dollars per month by teaching others what they know. The Global Research Report estimates that by 2026, the e-learning market will bring in $375 billion a year.
If you want to use online courses to help earn passive income in 2021, you will have to put in some serious upfront time. It's estimated that it takes at least a month to properly create a course that people will buy. But once you put in the time, you will earn passive income for everyone who purchases the course.
Of course, you will have to invest some money in this passive income idea as well. For instance, you may have to pay a course developer if you don't want to create the course yourself, and you will have to pay a monthly fee to places like Teachable or Udemy to host your course.
4. Mi casa es su casa
If you have a spare bedroom or an auxiliary dwelling unit (ADU) in your home, you can rent out the space and make some serious passive income in 2021. Airbnb and Vrbo have revolutionized the way people stay when they are away from home, and homeowners across America are capitalizing on the trend. Here's what you need to know about this money-making passive income idea.
Guests no longer want to stay in hotels. Instead, they look for experiences provided by homeowners across the nation that make their traveling adventures more personal. For instance, a horse ranchowner may offer a cabin on the land for rent on one of these sites. But don't worry if you own a home in a suburb — people are paying to stay in these types of rentals as well.
To get started, you should make your room or cottage ready to rent. Decide what you will offer the guests and make it as welcoming as possible. This may include things like purchasing a new ultra-comfortable mattress and new towels. Next, list the accommodation on one of the sites and wait for people to book it.
You can choose to be a hands-on host and provide your guests with breakfast and a friendly face, or you can install a keypad and leave the guests on their own. While this isn't a purely passive income in 2021 idea, it's close enough to include in this list and one of the ideas that make you the most amount of income.
5. Real estate the easy way
If you've always wanted to be a real estate investor, but you don't want to spend hours looking for the right property or dealing with bad tenants, you have options. Crowdfunding has come a long way, and one of the best things to emerge from the transition is real estate crowdfunding opportunities. In short, you can invest in real estate in an entirely passive way.
Sites like Fundrise offer want-to-be real estate investors an opportunity to invest in groundbreaking projects, both residential and commercial. And here's the great news: You can start with as little as $500 as your investment. After you invest, the savvy managers at the company will make the investment and manage the funds which will reap you a quarterly passive income check.
6. Put it on paper
Another great way to earn passive income in 2021 is to self-publish a book. Whether you are an expert about a topic, are passionate about something and want to share that with readers, or like to write fiction, you can create an eBook and sell it to readers on sites like Amazon.
This is another passive income idea that takes some upfront work. Most popular nonfiction books are about 30,000 pages and fiction books tend to run about 55,000 pages, so you will need to spend some time writing, editing, formatting, and publishing the book before you can begin to earn money from it.
If you love the idea of getting passive income from a book but don't want to write one, you can always hire a ghostwriter to do it for you. Just be sure that you purchase all rights to the book so that you won't have to share your profits with anyone.
You can find ghostwriters, cover artists, and book layout services on Fiverr.
7. Add to that
If you decide to publish a book as a means to passive income in 2021, you can take things a step further and also create an audiobook. As popular as eBooks are, audiobooks are quickly gaining ground as more and more "readers" prefer to hear their books rather than read them. You can cash in on this trend by creating an audiobook from your eBook.
You can record the audiobook yourself, or hire someone to do it for you. Also, sites like ACX allow you to connect with narrators who will record your audiobook for a percentage of the sales. That means you can set up your passive income stream with no upfront costs!
8. It's a wrap
If you do a lot of driving throughout the day, you can make passive income for driving those miles. Companies like MyFreeCar.com match drivers with national brands. Once you're matched, the company will place a wrap on your car that advertises the company.
Then, you simply drive your car and are paid by the mile to do so. The website claims that you can earn up to $400 a month for doing what you already do on a daily basis. Talk about easy passive income for 2021!
9. Offer convenience
Another way to use your car for passive income in 2021 is to use a service like Turo and rent out your car when you're not using it. This is a great opportunity for people who have classic or unusual cars to make a good amount of passive income in 2021. But even if you own an ordinary car, people will be willing to rent it while in town for business or pleasure purposes.
The Turo website says that the average amount that people earn per month is just over $700. And while it will take some effort to keep this passive income side hustle going, it won't take much. For instance, you will have to spend a few minutes listing your car on the site so potential renters can find it.
You will also need to wash your car before every rental and arrange for the key exchange. Payment is three days after the rental and Turo takes a small percentage, leaving you 60 to 85 percent of the total fee. The alternative is to let your car sit unused in the driveway when you're not using it!
10. Face forward
We've all heard stories about people uploading a video on YouTube or Rumble and making it big. The thing is, it's true. If you have something to say that people want to hear, you can make it big. We're talking about thousands of dollars per month in revenue from that video.
Since we're talking about passive income, we won't explore how to create a YouTube channel that builds a large audience. That is definitely not how to make passive income in 2021 because it takes a lot of work! Instead, we're talking about creating one video that will reach a massive audience and generate loads of passive income.
For instance, when a video goes viral, the creator of that video stands to make a lot of money. This YouTube calculator shows just how much money you stand to make by creating a video that reaches the masses.
If you have a great idea, an opinion that will be popular, or a subject that you think people want to learn about, creating a viral YouTube video may be the best way to earn passive income in 2021.
Recommended Read: Clarity Money Review – Consolidating Each of Your Accounts Within a Manageable Platform
Passive Income in 2021 Is a Real Possibility
Don't let anyone tell you that you can't earn passive income in 2021. It is entirely possible. You simply need to determine the passive income idea that best fits in with your lifestyle and then pursue it.
Did we forget about any passive income ideas that you want to tell us about? If so, please leave them in the comments section below and share your wisdom with other readers!